US Secretaries of Agriculture: A Brief Look at Their Legacies
There's always plenty of speculation of who might fill the cabinet as a new US president takes office, following by a lot of jockeying for those positions and usually a fight in the senate to get some of those nominations confirmed. There's prestige and influence with being tapped as a secretary of a department, and ultimately these individuals help shape the outcomes of a presidency. Being in the news so frequently, these individuals often become recognizable household names…except, usually, the US secretaries of agriculture.
Since most citizens are not involved in farming (or at least don't recognize the impact it has on their own lives), the role of US secretary of agriculture doesn't get much play in the media, and is usually a position that is not highly contested. Sometimes the office is even offered to individuals without any agricultural experience. In regard to inaugurations, it has been popular to select the secretary of agriculture as the "Designated Survivor," meaning that this person must stay at another location during the address at the Whitehouse, in order to lead the country if an event occurs that wipes out the rest of the executive branch. Does that count as an honor?
I'll admit, there aren't too many US secretaries of agriculture that I can name. The only exception is Earl Butz, who served under Nixon and then Ford, and that's only because he's the most hated man to take the position. (He famously stated that it was alright to allow family farms to die, because US farming had to "go big or go home." Jane Smiley named a fat pig after him in her novel Moo.) I also once read that Isaac Newton was the first US Commissioner of Agriculture, the position that later became the Secretary of Agriculture. However, he's not the Isaac Newton. Instead of being the father of mechanics, this Isaac Newton happening to be selling farm products to Abraham Lincoln when the position came up.
Assuming the nomination clears the senate, Biden's pick for Secretary of Agriculture, Tom Vilsack, will be the first to be reappointed to the position after having left it after a presidential change. It is probably fair to label Vilsack's first term as unremarkable. In fact, the most notable aspects of his tenure were failing to commit to Obama's agenda of taking on corporate agriculture, as well as endorsing "pink slime," the food additive used in American beef that made headlines in 2012.
Still, it got me curious of how other US Secretaries of Agriculture used their position. What about the other appointees who held the position in the 21st century?
Ann Veneman (2001-2005), the first of three Secretaries of Agriculture under George W. Bush, posted likely one of the most significant records in the position. The first and only female to hold the office, Veneman earned an ambitious legacy, and is especially known for expanding international trade for the agricultural sector. She also increased funding for child nutrition and food programs, making them more available to families in need and reducing fraud, as well as created programs such as Leaders of Tomorrow that sought to support young people in agriculture. After initiating a scientific study, she released new dietary guidelines for Americans. The mad cow disease crisis occurred in her tenure, and she is thought to have acted swiftly to protect the American food supply.
There is little to say (and can be found) about the next Bush appointee Mike Johanns, (2005-2007). The entirety of his by-line includes some criticism for the USDA being too slow to test cows suspected of mad cow disease, and then his decision to resign from the post after two years to seek re-election in the senate. His replacement, Ed Schafer (2008-2009), had to deal with a scandal less than two days in office. Hallmark/Westland Meat Packing Company, a major supplier to the National School Lunch Program, had allegations against them of animal cruelty and unsafe food practices. This led to the largest recall of meat in American history. As a result, Schafer spent his year as Secretary of Agriculture improving animal welfare and human food safety, including a comprehensive ban on slaughtering downer cattle and enforcing more regulations regarding the way cattle are handled in the slaughterhouse.
After Tom Vilsack served eight years in the Obama administration, Sonny Perdue (2017-2021) took over the office under Trump. Perdue created a mentoring program for new farmers, and sought to decrease regulations on farmers. During his term Perdue ran into controversy for being accused by Lewis Ziska, a USDA plant physiology climate scientist, of suppressing scientific papers for political reasons. Politico also reported that under Perdue 22 former campaign workers were hired by the USDA, even though they had no agricultural experience. During the pandemic, Perdue oversaw the Farmers to Families Food Box Program, which purchased agricultural goods from producers and redistributed them to communities.
Thus far, Vilsack's second nomination has drawn slightly more criticism than has been usual for US Secretaries of Agriculture. Critics say he didn't do enough to protect small farmers from Big Ag during his tenor, nor address the discrimination against black and other disadvantaged farmers.
Nonetheless, Vilsack has been given a rare opportunity to bring his experience back to the role and remake his legacy. Biden has given him an aggressive agenda meant to stimulate rural communities through conversation agriculture and renewable energy, creating a cleaner landscape for residents and wildlife. He has promised to take up the cause of regenerative agriculture, part of which may include companies who produce carbon to pay farmers to plant grasses and certain plants that remove more carbon from the atmosphere. He has also addressed his previous criticism and promises to impose antitrust laws on meat packers and limit their control of the industry, as well as seek out "inherent barriers" that have hurt black farmers.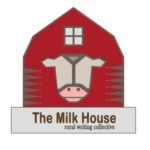 This article is part of The Milk House Column series, published in print across three countries and two languages. It can also be found at themilkhouse.org.
This article appeared in a similar form in Progressive Dairyman.
*
Ryan Dennis is the author of the novel The Beasts They Turned Away, available in North America, Europe, and worldwide.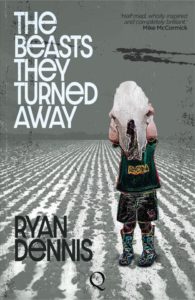 Íosac Mulgannon is a man called to stand. 
Burdened with looking after a mute boy, who the villagers believe to be cursed, the aging farmer refuses to yield in the face of adversity. He will do anything, at any cost, to keep hold of his farm and the child. This dark and lyrical debut novel confronts an apprehensive rural community caught up in the uncertainties of a rapidly changing world.
–
A novel like no other. Mythic and intimate, original yet recognisable, the barbed wire prose of Ryan Dennis draws down storm clouds and grey crows over a world at the end of its tether. Half mad, wholly inspired and completely brilliant.'
Mike McCormack – author of Solar Bones and winner of The Goldsmiths Prize