Thank you for your interest in contributing to The Milk House.
The Milk House seeks to help writers find new audiences, as well as serve as a place where readers can come to find high-quality writing. The project has grown quickly since it has gone live and has been featured in several major publications. Many writers have found the site useful to promote their work and raise awareness of any books they may have completed.
To provide you with information efficiently and anticipate some of your inquiries, here are the answers to several frequently asked questions.
What type of material should I submit?
The Milk House publishes creative work: poetry, fiction, nonfiction, music, drama and photography. The word count is open, and at the discretion of the author. Most prose pieces are between 500-1500 words, although we will consider work that falls outside of this range.
Because we are not yet in a position to pay writers (only promote their work) and our principal interest is publishing strong writing, it is entirely acceptable to submit a piece that has already been published.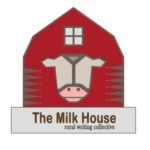 Does the submitted work have to be rural-themed?
The Milk House has carved out its place by serving those connected to rural communities. However, we understand that such readers generally don't want to read about rural subjects exclusively, as, like everyone, they have many facets to their individual experience. Instead, it is more important to both them and us that the writing makes one think, introduces one to new ideas, and forces one to feel human. We search out work that engages rural subjects, but we don't limit ourselves to it.
Where should I submit my piece for consideration?
Please email your submission to RyanDennis@themilkhouse.org.
In addition to my creative work, what else should I email to The Milk House?
If your work has been accepted for publication on The Milk House, please email the following things to Ryan (RyanDennis@themilkhouse.org):
1). Your creative piece, in a Word or Google Doc.
2). Profile picture
3). A bio of 3-8 sentences
4). Links to your previously published books (if you want us to link to something other than the Amazon page)
5). Information on any books that are scheduled to be published in the future, if applicable
If I have any other questions?
Please email Ryan at RyanDennis@themilkhouse.org.