Blue Tarps and Junk Heaps (nonfiction), by Shannon Hayes
"It's not something we have to create, it's something we already have. We have to teach people why blue tarps and junkyards matter…"
The newspaper is quoting my own emphatic words. They're taken out of context, and it's hard for a reader to understand what that has to do with Schoharie County hospitality.
I was speaking at a local forum on the lodging issue. Our county's occupancy tax and state-funded tourism dollars amount to little more than it takes to run a small farm. Our longest-running hotel was shut down for code violations in 2018. Another hotel now operates as a halfway house. Another, I've heard, has switched over to primarily lodging labor for the new jail.
The gathering where I spoke was convened to tackle the problem, to vision a Schoharie County that people would want to visit. We're sharing the meeting with our sexier cousins from next door, Otsego County, home to The Baseball Hall of Fame and Cooperstown, NY, dubbed "America's Most Perfect Village." It boasts a world class art museum, living history museum, opera, and breathtaking Otsego Lake. In Schoharie County we fawn over their success, eager to suckle hind tit, hoping to capture whatever comes down wind from them.
The sentiment I'm feeling in the room is strongly "we wanna be just like them."
But we're not like them. We don't have wealthy foundations to underwrite world class museums, a 4,000 acre lake; nor can we claim to be the spiritual home of America's favorite pass-time.
From my view, we have a lot of equally wonderful things — The Schoharie Valley, with some of the most fertile soil and breathtaking agrarian vistas in the world, was a breadbasket for the American Revolution. We have lots of small farms producing a vast array of meats, fruits, cheeses, vegetables, honey and syrup. We have wineries, distilleries, microbreweries, cideries; miles and miles of hiking trails wind up over mountains and down along the valley floor;  and secret swimming holes and waterfalls generously pepper the county.
But compared to Otsego, we're the slovenly lot that reminds tourists of our Appalachian heritage. On a Saturday night in summer, the parking lots in town smell of leaking motor oil, pizza boxes, cigarettes and beer. Obesity and poor nutrition plague a lot of the residents. Many houses need paint and repair (including my own), spare-parts cars litter a lot of yards, and most noticeably, we sport a lot of blue tarps. They serve as permanent-temporary roofs and house siding. They function as lanais, replace windows, and conceal heaps and heaps of detritus, sometimes carefully stewarded and curated parts resources; sometimes symptoms of our nation's impoverished affluence. One can never be quite sure which.
I never minded the blue tarps and junk. Where Cooperstown felt the pressure to polish and shine, I breathed easy in Schoharie County, happy to know the secrets of the streams, best berry patches and stone walls. The blue tarps and junk were a convenient distraction, suggesting to passersby that there was nothing to see here…Leaving me and my neighbors to relish the delicious water, breathe the fresh air, ski the trails and drink in the views.
But the topic of our general messiness is a perennial matter. Folks with tidy houses and manicured lawns would petition for junkyard laws and zoning laws. There have always been efforts to bring our chaos under control.
I always opposed them. I saw them as an imposition from an elite class that failed to recognize the economic importance of junk heaps for used parts and building materials. I felt the definition of a junkyard was entirely too subjective; unable to distinguish a carefully tended rural resource from garbage.
Junkyards have been a way of life around here, and I long relished the camouflage they provided, helping to make sure Schoharie County wouldn't become crowded with persnickety neat-nicks.
But I learned that keeping the beauty a secret can be dangerous. A community can forget it's own beauty and stop valuing itself. And when that happens, it becomes an easy target for ecologically rapacious development, because we don't feel what we have is worth fighting for. Resources can be taken away. School enrollment goes down. Families move away. No one remains to steward the ecological treasures I was so willing to hide for my own enjoyment.
Over the past decade, my attitude about sharing the beauty of this place has shifted. I want people to know about it. I appreciate the significance of tourist dollars, but more than that, tourists bring our community the precious gift of appreciation. And when we feel appreciated, we develop a sense of self-worth. And when we have a sense of self-worth, we protect our waters and steward our lands.
We've changed a lot here on the farm to welcome them. We've cleared hiking trails through the woods and pastures; operate farm tours; we put in a Tentrr site for campers; and we converted the apartment over the cafe into a vacation rental. We welcomed 300 overnight guests to our hamlet of West Fulton last year, not to mention the day visitors who come through the cafe. I've even written a little guidebook on the wonders of West Fulton.
I now want to welcome tourists and enlist their love and support in safeguarding this beautiful corner of the world. But I still can't find blue tarps and junkyards unsightly. Too many times they've held the resources a neighbor needed to repair the baler before the rain soaked the hay; kept a car on the road; kept the weasels out of the chicken coop; or provided the materials to cobble together a cold frame. And when the hay gets bailed ahead of the storm; the winter feed is better. And when the winter feed is better, the beef and lambs taste better. And when the weasels are out of the coop, there are fresh eggs for breakfast. And the cold frames bring fresh vegetables through the darkest months.
This is one of the reasons I am okay with those junkyards and blue tarps. They're reflective of our economic reality. The other is that they belong to my neighbors; the same people who plowed the post office and cafe when our truck was broken; who slow down when my kids are on the road; who serve as our firefighters and EMTs and public servants. Blue tarps and junkyards aren't as classically attractive as the gaily painted houses of Cooperstown; but they have functional importance.
Sometimes they truly are symptomatic of a hoarding problem. That kind of sickness is far too deep for local codes to correct. But maybe love and pride of place can be a start to that. For now, they're a part of who we are. And when we welcome people to Schoharie County, I don't want the pressure to hide what some may find unsightly. I want to be loved for who we are, which is a truly beautiful place, complications and all.
And that's why I think blue tarps and junkyards matter.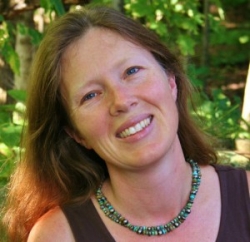 Latest posts by Shannon Hayes
(see all)