The Milk House is an online community between those who write about rural subjects and those who like to read about them. We're proud to be the meeting point of all high quality writing from the countryside…any countryside.
Rural life is both singular and unique across geography, while at the same time having aspects that are shared among those who experience it, regardless of where they come from. It means something to be a part of a rural environment, and those from the dirt roads of Montana and the long hills of Scotland have plenty in common.

It is not always easy finding good writing on rural matters. For centuries, the country has been a place of campy indulgence by writers who generally weren't from there. More than enticing landscape, provincial manners, or a way to escape from the city, the countryside is where real people face the dramas of everyday life. The writing on this site is an honest, visceral, and thoughtful look at these experiences.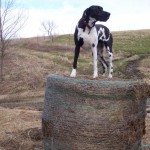 The work featured on the Milk House varies, from fiction to nonfiction to columns and opinion pieces. It comes from established novelists and poets that you're to likely to recognize, popular columnists and bloggers, and readers who have something to say—all published side by side. Our contributors are spread across the globe, from Kenya to Canaseraga, NY.
Don't expect to like everything published here. No one has the same tastes. Still, we think you'll be able to find the type of writing that you can connect with and new authors to follow. You can find any books they have written in their biographical notes. 
Currently The Milk House site publishes a new Milk House column every Monday by Ryan Dennis, and a featured piece by a contributing writer every Thursday. You can always read previous columns, articles, and stories on The Milk House site. Sign up for free with your email address on the right side bar and receive a story or column in your inbox every month that doesn't appear on the website.
Thanks to the support given its writers and readers, The Milk House has never stopped growing since its first appeared. Recently, it was featured on Agriland, among other sites and publications.
If you would like to have writing showcased on The Milk House read here on how to submit a piece. Every year our panel chooses six original pieces to submit to The Pushcart Prize.
Feel free to share this site with your friends or on social media. If you have a comment about something you've read, email RyanDennis@themilkhouse.org or use this contact form.
The Milk House is where rural readers meet rural writers. We're happy to make the introduction.
Tima Grieser
Editor and Content Manager
Ryan Dennis
Founder
Where Milk House Writing Comes From